Davide Lazzaretti, perché? (Davide Lazzaretti, Why?)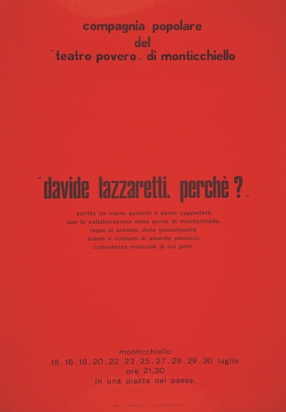 The usual collaborative production processes of an autodramma were set aside this year, in order to mount a play fully scripted in advance by Dante Cappelletti.
The work celebrated the centenary of the death of Davide Lazzaretti, also known as the 'Amiata Prophet' or 'Saint David', who died tragically in Arcidosso on Mount Amiata, about 50 kilometres from Monticchiello.  Lazzaretti's reputation was both sporadic and ambivalent, but was significant for 19th-century social and religious history.
He founded a religious community on Monte Labro, preached a renewed and purified Christianity, and hoped for the foundation of a new Republic of God, which would involve a new political and economic order.  He was killed, unarmed, by the State forces of law while leading a procession of 5,000 followers.
The fact that Lazzaretti lived and worked in a zone close by, and that he had provoked reflection and discussion in Monticchiello, was a reason for mounting a theatrical account of his career.  Cappelletti's script was based on research into firm historical sources, in which the facts were sifted from mere hagiography.