La piazza (The Village Square)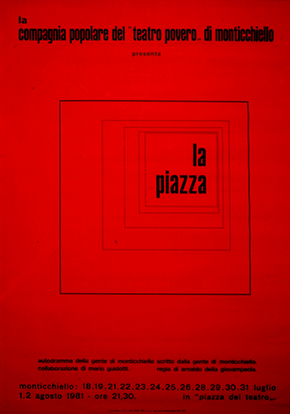 The title of this autodramma was self-explanatory: the intention was explore and demonstrate what the central square of a small village had represented, and what it had been used for, both in the past and in the present.  Since the most important current use of the square was actually as the stage on which autodrammi were presented, this play became extremely self-referential.
There was a sense in which the company was investigating its own procedures, taking stock after a history of productions over more than ten years.  In front of its regular spectators, the Teatro Povero was dramatising its own procedures: showing how an autodramma was conceived over the course of the year, and how the work of individuals interacted with the ideas of the larger collective.
Behind this show, which offered more questions than answers, there lay the fact that the Teatro Povero co-operative was also re-examining its structures and the membership of its creative team.  After this year, the company's artistic director Mario Guidotti took a less active part in preparing productions, and the role of dramaturg and co-ordinator was taken over by Andrea Cresti—supported by a small scriptwriting committee, and still responsive to the wishes of the co-operative.