Noi di Monticchiello (We from Monticchiello)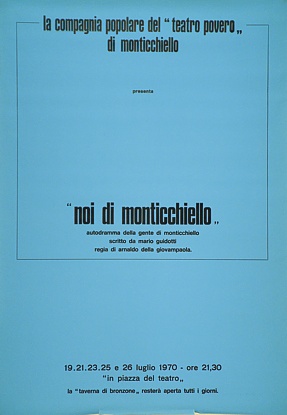 This year there was a different overall concept: to turn individuals from the village into actors, to have them explain directly to the audience some episodes and problems from their own daily lives; and then to switch to the dramatization of events from the distant past.  The style was to verge on improvisation, with a touch of self-irony.
The production therefore consisted of direct monologues, and of snippets of family and village life, bringing to light the problems of a community which felt itself to be neglected but which was determined to survive—a civilised community, attached to its own traditions but none the less focused on the future.
In the second act, brief extracts were included from productions mounted in the three previous years.  These were not intended as mere decoration, but to underline how theatre activity in Monticchiello was becoming a medium for getting the rest of the world to listen: an insistence that Monticchiello did not intend to shut up or go away.
This act of collective "confession" ended with the actors breaking bread and distributing it along with wine to members of the audience: a long-established rite of communion and solidarity.