Quel 6 Aprile del '44 (That 6th of April in 1944)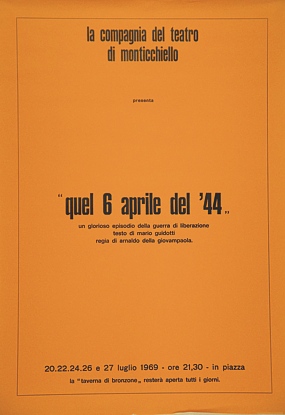 It was with this play that the concept of "autodramma", a play in which a community dramatises its own experiences, was first fully conceived.
On 6 April 1944 there was an armed encounter which became known in the history of the anti-fascist Resistance as the Battle of Monticchiello.  A group of seventy partisans resisted and routed 450 soldiers of the fascist republican militia.  Reprisals were then threatened by a squad of the German SS.  25 years later, people who had witnessed this event, or taken part in it, decided to bring it into the village square as a theatrical production.  This involved creating stage characters and events on the basis of official documents, but also through direct testimony and acquaintance with the people themselves.  The aim was to recreate the story and the atmosphere of those intense moments, to focus on the human values displayed and to point towards reconciliation.
The drama started and finished by evoking the long terrible night in which the inhabitants of Monticchiello were lined up against the ramparts by the Nazi troops, and left for hours uncertain whether or not they were going to be shot.  Then, a combination of circumstances which remain unclear, but which certainly included the intervention of a generous German lady who had been resident here for a long time, produced a change of heart which rescued the village from possible tragedy.
In between, two flash-back episodes, the first and second acts, dramatised the events of the night before, the dangerous life of the partisans, the preparations for the fight and the battle itself: faced with overwhelming opposition, the patriots brought off a clever tactical move which led to their occupation of the village and their victory.
Many of the actors in this play had been present at what happened, or had heard about it as children from those who were there.  This led to a particularly moving commemoration on stage of an unforgettable event.