Quelle e queste donne (Women Then and Now)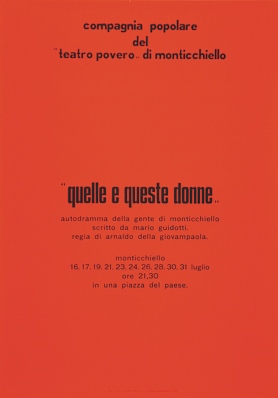 Autodrammi had now established a formula of investigations into major social and spiritual issues.  This time it was the turn of 'women in society', under the growing influence of 1970s Italian feminism.
The first act of this play was set in the summer of 1976: a feminist speaker holds a meeting in Monticchiello, and starts crises in the lives of two local couples, one elderly and one young.  The women are moved to persuade their husbands to leave the village and migrate to a big city, where female emancipation is easier to achieve.
Following a recognized formula, the second act then took us back in time, to a peasant family household in 1952—a time when a desire to abandon rural life first took shape in the female population, and led to the great exodus from the countryside just a few years later.  The drama addressed themes of clandestine abortion, of the persistence of social taboos in the lower classes, and the rebellion of a young woman against those prejudices.
The third act then took place in the current year of 1977: it was a dialogue between a woman who has emigrated to town and others who have stayed in Monticchiello.  A series of relevant questions were treated, including that of 'black' labour.