QUESTO E QUEL TEATRO: 1974 – 2015, views the show Tuscan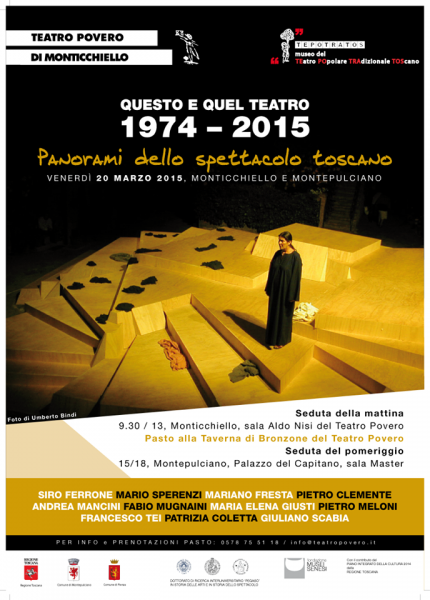 cultural season 2014 – 2015 / conferences & meetings
FRIDAY, March 20, 2015,
Monticchiello and Montepulciano: conference
THIS AND THAT THEATRE
1974 – 2015
VIEWS OF THE SHOW TOSCANO
MONTICCHIELLO (Pienza) and Montepulciano – Friday, March 20, a meeting to discuss the transformation of the theater Tuscan between the seventies and today. Two sessions: morning Monticchiello, afternoon in Montepulciano. Scholars and men of theater, anthropologists, protagonists of the institutions meet to draw a historical synthesis and lines of development.
It was 1974, a time of cultural vitality and innovation in terms of the theater, to Tuscany, also coincided with the birth of the Tuscan Regional Theatre, one of the first examples of cultural programming on a regional scale applied to the theater. In that atmosphere, a famous conference in Montepulciano made the point about the relationship between popular culture and theater research, animating and renewing experience that sought a path between tradition and innovation.
More than forty years later, the rich heritage of theater culture has gone through transformations, carried out, developments and sometimes returns, often making treasure of a regional tradition has always seen as a unique in Italian: "No other region of Italy can boast something equivalent to interest ethnographic, cultural and theatrical ", already pointed Paolo Toschi, dean of scholars of the show national, in his Origins of the Italian theater.
Here then this and that theater: 1974 – 2015, Tuscan landscapes of the show, a conference to reflect on the prospects and state of the art, the parable long that through the decades projecting forward the history of regional theater. A day of reflection that March 20 will bring together once again theater people, scholars and anthropologists to discuss past and present, trace possible trajectories. The morning session will be held in Monticchiello, hosted by the Poor Theatre, between 9:30 and 13. After a break where you can have lunch at the Tavern of Bronzone, managed by the theater of Monticchiello, work will resume in Montepulciano from 15 to 18, the Palazzo del Capitano in Piazza Grande. Among the events of the day, even the precious testimony of Giuliano Scabia, protagonist of a long journey of art and research.
The initiative includes the participation of the Inter-University PhD Pegaso in History of Arts and Performing Arts of the three Tuscan universities, the Poor Theatre of Monticchiello and administrations of Montepulciano and Pienza. Also the sponsor of the Sienese Museums Foundation and the Museum of Traditional Tuscan Folk Theater. The conference is part of the activities funded by the Integrated Plan of Culture of the Region of Tuscany in 2014.
For information and reservations: Poor Theatre of Monticchiello, (+39) 0578 75 51 18 or info@teatropovero.it.